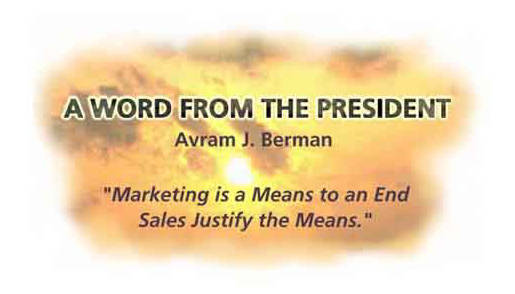 Results
Pro-Tech Welding & Fabrication, Inc.
Marketing Cost: $20,000 <> Sales Return: $413,000
(9 letters of excellence enclosed for your review)

Accurate Representation
Our staff comprises professionals with very sophisticated
skill sets. They are self managed, organized & understand
their responsibility to offset the cost which they represent
to a client by in/directly producing a return on investment.

Flexibility
We customize a weekly budget to accommodate the cash
flow position for each client. (note: part time contracts available)

Responsiveness
Eliminate the "Red Tape." Development of your marketing
program and its rapid implementation is performed directly
by the president. For new projects we require 1 week lead
time and 72 hours for emergencies. Request by clients for
existing projects are always acted upon immediately.

"AJ Berman Associates' ultimate goal is in the
earned perception of clients who view us as an
extension of their company and not as an out-
side sales and marketing service."