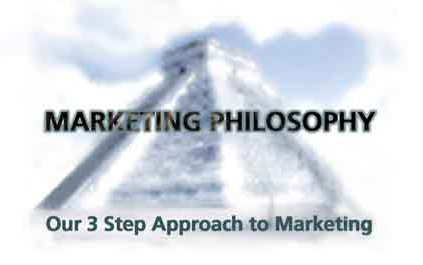 IDENTIFY TARGET AUIDENCE
This is accomplished using a targeted contact list which
we or our clients can provide. The alignment and quality
of this list is one of the most important elements towards
achieving an effective and efficient marketing campaign.

CHOOSE A MEDIA VEHICLE
Mail, Fax, Email
Telephone
Radio, Film, Video

PRODUCE YOUR MESSAGE
We offer copywriting, layout, design and print services.

Below is an example of our qualitative approach to marketing a good/service. In many cases, we provide our clients with a contact call list and produce their promotional material (can include: copywriting, layout, design and printing). To request a detailed proposal and a productivity analysis, please click here.



Step 1 - Qualify the prospect:


Our initial focus is to identify and contact the decision maker - an individual who is in a position of authority, has indicated a need and who possesses the finances to acquire goods/services.



Step 2 - Build a relationship:


Our account representatives do not dial for dollars, they're focused on building a genuine rapport with potential customers. They will not send over a deliverable unless there was, "proof of life", that a prospect was genuinely interested in the value proposition.



Step 3 - Reinforce the calls:


Next, after gaining permission, when requested, we deliver our candidate's promotional material electronically.



Faxes and e-mails are more personal and because they are delivered shortly after hanging up with the prospect, their reinforcement or connection to the account rep that sent it is strengthened. In addition, faxes and e-mails are not concealed like mail, which is often discarded before its contents are revealed. Note: once "proof of life" is established, we can send out mail, when requested.





Step 4 - Produce deliverable:


Deliverables can include, but are not limited to: conference call, sales meeting request for quotation, sale, receipt of a completed survey or registration form or a signed (e.g., dealer agreement.)
Proposition | Testimonials | Services | Technology | Proposal | President

HOME PAGE